Yarn up
Yarn up is a safe space for First Nations young people to connect with community, hear from others, and access wellbeing resources and support.
Connect with Zig, Tuo and Wickie
Zig's story about family troubles
Zig shares how his mates and Nan help him stay deadly when his home life gets too much.
Check out Zig's story
Tuo's story about online bullying
Hear from Tuo about how they use cooking and their cousins to help them through tough times online.
Check out Tuo's story
Wickie's story about dealing with racism
Wickie shares how talking to her coach and dealing with her anger is the best way for her to deal with racism.
Check out Wickie's story
Connect with mob
Make time to have a yarn with someone you care about. You could get out your phone right now and text someone to say how important they are to you. It'll strengthen your connection and brighten both of your days.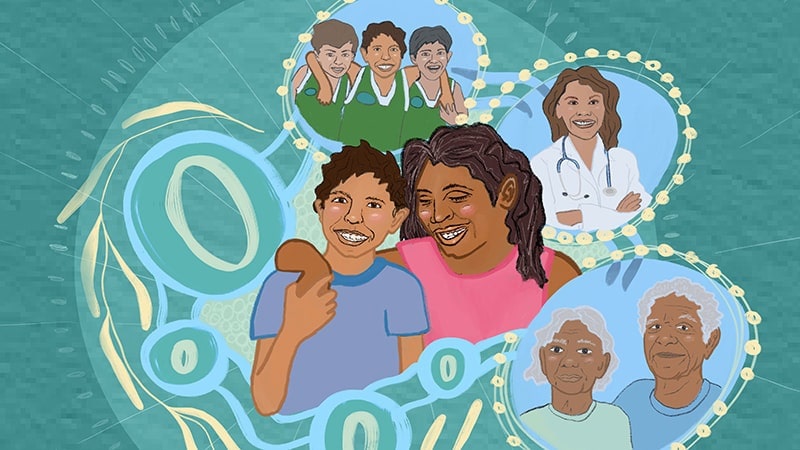 Yarning Space
See how other young people are coping and get some ideas on what they do to destress.
How to raise your voice for Reconciliation
National Reconciliation Week is just around the corner, so I've been reflecting on this year's theme, "Be a Voice for Generations", and it got me thinking about legacy. We all have the opportunity to make an impact, leave the world a better place than we found it, and play a part in creating a better future.
First Nations Health Directory
Finding health services that really understand what you're going through as a First Nations person can be tough. So, we've put together a list of resources to make it easier to find the right help for you.
Aboriginal and Torres Strait Islander people should be aware that this website may contain images, voices or names of deceased persons in photographs, film or audio recordings.
Book a session with PeerChat
Private, confidential and free
Chat about anything: nothing's too big or small
For anyone in Australia aged 18-25
Acknowledgements
ReachOut developed these resources in partnership with the following Aboriginal and Torres Strait Islander organisations:
Jasmine Sarin, JS Koori Designs
Sancia Ridgeway
ReachOut also thanks the staff and students of Jarara Cultural Centre, Catholic Schools Parramatta Diocese, Djarragun College and Narrabri High School for their input into the development of these resources.
About the artwork
Healing and Truth was created by Jasmine Sarin (JS Koori Designs), a proud Kamilaroi and Jerrinja woman from NSW.
Healing and Truth explores the importance of seeking help and being able to feel supported, connected and safe in our healing journey. Staying connected to our communities, country and culture helps us improve our social and emotional wellbeing and feel better.
The central circles represent ReachOut and the services they offer to help us on our journey of healing. As young Aboriginal and Torres Strait Islander people, we are often faced with compounding issues, and it might feel like others won't understand or simply 'don't get it'.
This is where ReachOut can help. Social and Emotional Wellbeing is important for everyone.