Beat Panic
About the app
Beat Panic is designed to help you cope with panic attacks or anxiety while you're out and about. It uses a series of flash cards in soothing colours to help you focus, slow your breathing, reduce your heart rate and release tension.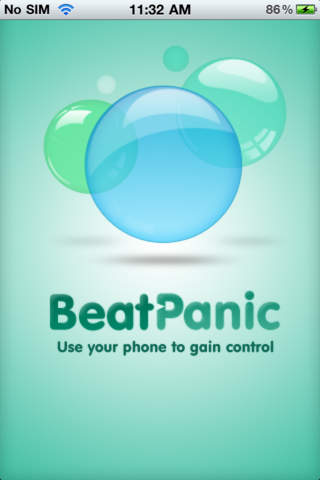 User rating
Health Pro rating
Goals
Method
Cognitive behaviour therapy
,
Breathing techniques
Developer
Jane Anderson-Hawkes
Reviews
This is a simple, calming, slow-paced app. It contains good information and is designed to tell you what to do to manage during a panic attack. The app is slow, simple and repetitive, which some might find frustrating. It contains a lot of reassurance, which might help in the short term but in the long run you want to learn how to reassure yourself.
I liked...

It worked! I have regular panic attacks and have gotten used to pulling my phone out and going through the process. It doesn't prevent them all but it does work a lot of the time and it just looks like I'm playing with my phone so it's not embarrassing lie having my boss coach me through a panic attack as he used to have to do! For those people that do have panic attacks it would definitely be worth spending the money.
I didn't like...
I didn't really like how it goes immediately into the panic attack prevention (there's no menu screen or anything). The functionality is a bit fiddly - I didn't realise that it automatically progressed through the screens. I also don't like the font used minor issue but when you are using it multiple times a day it gets irritating).
I liked...
I didn't like...
anxietyhelper
anxietyhelper is a mental health toolkit for anyone, allowing them to get info on certain mental illnesses, find resources,...
ReachOut WorryTime
Everyone has worries pop into their head from time to time, but sometimes they won't go away and start to impact your everyday...
What's Up?
What's Up? can help you cope with anxiety, stress and feelings of depression. It has interactive games, forums, thought tracking...